01 December, 2021
Cast Stone entrance features
One of the most popular products available from our diverse range are cast stone entrance features. They are adaptable in design and unique cast stone features can be manufactured based on architectural design requests.
Whether it is ancient buildings, places of worship, educational institutes or so, the main attraction is always the entrance features. Cast stone features can enlighten the visual appearance alongside serving a practical purpose by increasing the value of properties.
Cast Stone pier caps
Cast stone pier caps are designed to protect gate piers and pillars from any weathering. Whether they're decorative or plain, they will have an elegant outlook and finish to any entrance. Pier caps can be paired with components such as wall coping or coping stones. Pier caps can be colour customised and come in different sizes. The size is 50mm across all four at the bottom. Any additional width is dependent on the design.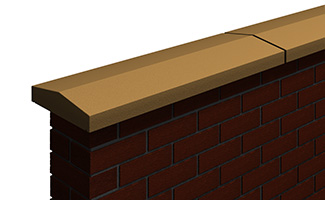 Cast Stone wall copings
Click cast stone stock a variety of wall coping designs. They come in different sizes and shapes. For exquisite scenery, especially on garden projects, wall copings are used for that final touch or enhancing its visual appearance. They are manufactured from high quality materials and the strongest form of concrete. Regardless whether the walls are flat, curved or intricately shaped, any specifications can be met. There are three main designs that are stocked:
For any walling project, coping stones are used to cap standalone walls. This will protect the wall from any weather damage, in particular rainfall from entering.
Cast Stone Decorative heads
The most popular entrance feature of a building is usually cast stone decorative heads. Cast stone heads are designed and manufactured to imitate natural stone lintels. Stone heads can be either reinforced or decorative, with decorative stone heads requiring an additional lintel to support the weight, structure, and balanced. Decorative heads are placed above windows, doors and any other openings of the wall.
Beautiful Cast Stone Entrance Features from Click Cast Stone
Click Cast Stone stock a broad range of decorative stone heads which are produced from the highest quality materials. Create the most beautiful entrance with cast stone pier caps, wall coping and other cast stone products. Contact us today through calling 01909 775 000 or emailing one of our specialists at [email protected].
Know what you're looking for? No problem, head over to our product shop to find the product you need.