Delivery & Returns
Important Delivery Update
Please note that due to the ongoing challenges with delivery drivers in the UK, some deliveries are taking slightly longer than expected. Our normal delivery timescales are detailed below and we will endeavour to meet these wherever possible. If we are notified that there may be some delays with your delivery then we will inform you at the earliest opportunity. We would like to thank you for your continued support and assure you that our haulage partners are working hard behind the scenes to ensure that all deliveries are dealt with as efficiently as possible during this period.
Normal Delivery Timescales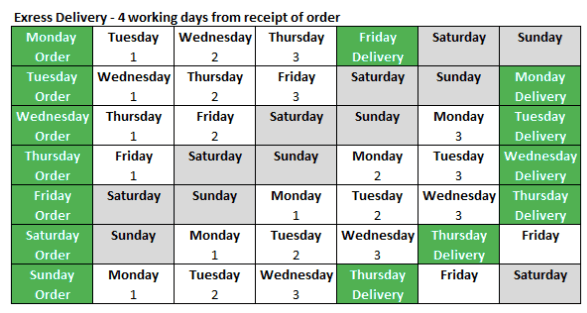 Please note, the above tables detail delivery timelines in a normal 5 day working week. Bank holidays are not classed as working days and as such will extend the delivery timeline. These timescales are indicative and on occasion may be shorter. On a standard delivery service our haulage partners will contact you to arrange a convenient delivery day once they have received the consignment. For Express Delivery service, our delivery partners will deliver your consignment at the earliest opportunity.
How will my order be delivered and do I need help?
Delivery is kerbside only or the nearest safe point to the address.
Customers should have a minimum of 2 people at the delivery address to assist the driver in unloading all cast stone products by hand, you may require more if your order if your order is large. Unfortunately our drivers are not able to assist with unloading. Each delivery is allocated 30 minutes for unloading. Where possible the driver will unload with a pallet truck via the tail lift to a level and safe area nearest to kerb side, the driver will not be responsible for delivering beyond this point.
Your Order will be delivered on pallet/s. The delivery vehicle is not fitted with a crane or winch. Please be aware that the driver will not be able to lift your orders over walls or fences or up steps and slopes and we cannot deliver onto uneven surfaces such as gravel driveways, grass, unmade roads etc.
Please Note: Deliveries cannot be made on narrow or gravel driveways.
Delivery Dates
All delivery dates given or chosen when placing your order are not binding and do not form any part of a contract between us.
We will endeavour always to meet your requested delivery dates, but due to unforeseen circumstances or matters beyond our control, we will NOT be liable to the customer for any costs or compensation due to a missed delivery date. All orders are placed on the acceptance of these terms.
Delivery Times and Options
At this currant time we only offer delivery between the hours of 8am and 6pm on the day of your delivery.
Delivery Location and Vehicle Size
Forticrete will only deliver to the address you specify on your order. It is therefore vital that this address is accurate. Forticrete cannot accept responsibility for any loss or damage to your order once it has been delivered in accordance with your delivery instructions.
When considering access, please consider width restrictions, parked cars, trees, low bridges and power lines etc.
If your delivery address falls within an area in which it is illegal for our delivery vehicle to park or offload, Forticrete will not be able to make delivery, if you have any concerns regarding how our delivery vehicle can access/unload to your delivery address, please contact us before placing your order
Vehicles may be up to 20 tonnes gross weight. Vehicle dimensions will be a maximum of 11 meters long by 2.55 meters wide and 4 meters high. If your property does have restricted access, in some locations we can offer a smaller 7.5 tonne vehicle (7.8m long by 2.55m wide and 3.5m high) however please do contact us prior to placing your order to ensure that we are able to offer this option.
What If I am not in?
If delivery is attempted and you are not available to accept the delivery we reserve the right to charge a re-delivery charge and storage if necessary until delivery can be rearranged.
Returns and Damaged Goods
Damaged goods or wrongly delivered orders should be noted on the delivery ticket and our office informed within 24 hours. Agreed claims will be handled on a case by case basis.
Incorrectly ordered goods by customer may be returned undamaged at our discretion but a re-delivery and handling charge will be applied and notified to you at the time.
We do not accept return of goods damaged after delivery.