19 October, 2021
What is a Cast Stone Wall Plinth?
When you hear the term 'cast stone plinth', you'll often think of a plinth you can place items on. Cast urns, bird baths, planters etc, can be rested on stone plinths as a way to raise them off the ground and protect them against the weather. However, at Click Cast Stone we supply cast stone wall plinths which are used as a decorative feature around the base of a building.
The typical use for cast stone wall plinths are for buildings when brickwork steps back and you need a feature band. Wall plinths are non-structural, they are purely for aesthetics. They often come manufactured with a chamfered edge to finish off your design. A wall plinth is similar to string course, the difference being that wall plinths are built into the lower part of the building, whereas string course is used higher up.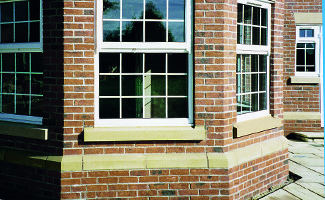 Our Cast Stone Wall Plinth Range
All of our cast stone wall plinths are made from finely dressed cast stone in a Bath finish. They are designed to act as feature bands on top of a 150mm thick wall which steps back 100mm. Our wall plinths are available in standard 890mm long units as well as 90 degree internal and external returns:
Quality Cast Stone Wall Plinths
All are manufactured from the highest quality materials by market leaders, Forticrete. You can purchase online and we also have a highly experienced team happy to help with any questions or queries you may have. Contact us today to find out more about our high-quality cast stone products. You can call us on 01909 775 000 or email [email protected]. We also have samples available and are also able to offer bespoke solutions.