23 September, 2022
Handling & Storing Cast Stone Product on Site
When working on a job that requires cast stone products, the first issue can often be sourcing high-quality products for delivery within a specific timeframe. Once you've sourced the product you need, there are a few things to consider. For example, working on a busy construction site can cause many additional headaches without having to worry about storing cast stone products safely, installing products and cleaning items that are dirty.
Whether it's a worker who's dropped a cast stone cill or a machine operator who's run over a pallet of twice-weathered coping stones, these mistakes can be costly if they require products to be replaced. In today's blog post, we'll run through some tips and guidelines to keep your cast stone products safe on site.
Please ensure you use the correct PPE and read our Safety Data Sheet (COSHH) regarding our concrete products. This can be downloaded from our website.
Handling Cast Stone Products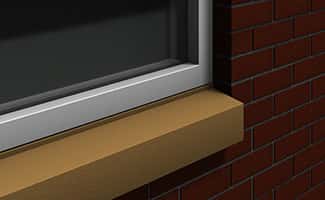 All Cast stone deliveries to site should be made on suitable vehicles. Even small deliveries should be made on a Flatbed/Dropside vehicle which allows it to be loaded/unloaded by a forklift truck. Consider the access arrangements and ensure that the delivery vehicle can be safely manoeuvred to the desired point of delivery.
Provide a firm, level, clean and well drained base to allow safe delivery and storage. This area should not be at risk of soiling from passing vehicles or other adjacent site operations. Ideally pallets should be stored in a designated storage area. If possible, store pallets such that they can be accessed in fixing sequence to avoid double handling.
Cast stone products must be treated as fragile.
Pallets are heavy and great care should be taken in their handling. Pallets should be offloaded / lifted using a forklift truck or crane using suitable forks that are adequate for the weight involved. Depending upon the items, a pallet of cast stone products can weigh from approximately 1 tonne to a maximum weight of approximately 1.5 tonnes. Pallets should not be stacked on top of each other and do not stack other items on top of pallets of stonework.
Storing Cast Stone Products
Cast stone units are delivered on wooden pallets and will be held together with polystyrene packing and shrink-wrapping (bag or sheeting). All persons involved with the transporting of packs need to be made aware, particularly when transporting overhead, that the shrink-wrapping or the pallet could fail which would allow the products to fall. Therefore, additional load security method needs to be employed before overhead lifting i.e. contain the product in case of a failure.
Pallets should remain unopened until the units are required.
Do not rip open packaging using site tools or other, but carefully cut packaging with a knife ensuring that the blade does not damage the stonework.
After removing stonework from the pallet ensure that remaining stonework does not come face to face by utilising packing material that the units arrived with. It is particularly important that this packing material is in place if the pallet is to be moved (this should be carried out using a forklift truck or crane using suitable forks).
If cast stone products are to be left for an extended time, it's recommended that items should be covered with non-staining tarps.
Cleaning Cast Stone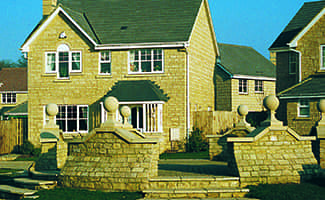 Lots of traffic, on top of a muddy construction site, are the perfect conditions to ensure cast stone items are splashed with mud. As mentioned earlier in this blog, we recommend leaving outer packaging on to avoid this but if you find yourself with muddy cast stone products, here's what we recommend.
At Click Cast Stone, we'd urge caution when cleaning cast stone products. It's important to carry out a test area before completing the main work for any cleaning method. Start with the least aggressive treatment and then proceed to the next if necessary. In terms of PPE, we'd recommend wearing gloves and goggles to clean your products.
We recommend you avoid using pressure washers to rinse products as this can damage products or leave permanent swirling patterns. For a more in-depth process to cleaning cast stone products, check out our dedicated blog post.
Repairing Broken Cast Stone Products
It may not be something you want to consider but the truth is you're likely going to have to replace or repair broken products at some point during a site build. We've already touched on the possibility products can be run over by heavy machinery and if this does occur, there's a slim chance you'll be able to complete a repair. However, if someone steps on the edge of a coping stone, leaving a small chip, it may be suitable for repair. If repairing the product is the route you take, then we suggest you contact a professional to complete the repair. Replacement cast stone products can be ordered online from our shop and delivered within 4 working days, using express delivery.
Buy Cast Stone Products Online Today!
Click Cast Stone stock a wide variety of cast stone products, ranging from stone window cills to decorative heads and EcoHabitats. If you're looking to buy high-quality Cast Stone products online, delivered within a quick timeframe, then look no further. Check out using our express delivery service to receive your order in a maximum of 4 working days. Alternatively, get in touch with us today by calling on 01909 775 000 or email us at [email protected].
Please ensure you use the correct PPE and read our Safety Data Sheet (COSHH) regarding our concrete products. This can be downloaded from our website.