07 March, 2022
What Is The Purpose Of Cast Stone Cills
The purpose of a Cast Stone window Cill is to protect the masonry below from inclement weather by shedding water away from the wall at the window opening. In addition to this, a Cast Stone cill is also a feature that adds to the aesthetics of the building
Types of Window Cills
The type of Cill used is often down to personal preference but also based on the type of wall/construction and location of the window from the front wall. The two types of Cast Stone cills we stock at Click Cast Stone are plain stooled cills and plain Slip Cills.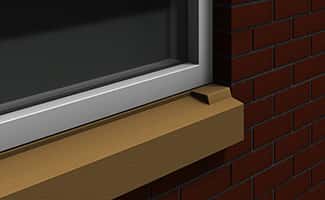 Stooled Window Cills
Stooled cills have a stooling of approximately 102.5mm at each end of the window built into the wall, which is the traditional look. Cast Stone Stooled cills are installed when the building is constructed. This type of window cill can be used in a brickwork wall or a rendered wall: see listings of stooled cills and stooled cills for render.
Slip Cills
Cast Stone slip cills come without stoolings and sit between the reveals. They can be installed when the building is constructed or installed afterwards. Slip Cills are also used with bay windows along with either 90 degree or 135 degree returns: see listings.
Threshold cills
There is no upstand at the back edge just like slip cills. Threshold cills are applicable when the window frame fixing doesn't require the upstand and can also be used as a band course around the property.
Please note: Click Cast Stone do not stock this product.
If you're already in possession of cills, follow our cast stone installation guide.
Stone Cills by Click Cast Stone
Whether you're looking for Slip or Stooled cills, Click Cast Stone stock a variety of sizes. All products are manufactured by market leaders, Forticrete, and are available within 4 working days using our express delivery service. To speak to one of our experts, contact us on 01909 775 000 or email [email protected].