10 October, 2022
Introduction to Integrated Bat Boxes
Designed to protect and support wildlife, while maintaining the aesthetic appeal of homes, our integrated bat boxes are the perfect cast stone EcoHabitat product to ensure homeowners and wildlife can coexist safely. Forticrete bee habitats and hedgehog gravel boards are part Ibstock EcoHabitat range which can be used in conjunction with cast stone products within the Ibstock range to create a safe space for wildlife. In this blog, you'll learn more about cast stone integrated bat boxes and how to tackle nature loss using our EcoHabitat products.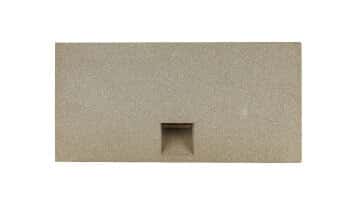 Integrated Bat Box
Our cast stone integrated bat box provides a secure habitat for Pipistrelle bats. Our product replicates a similar environment they would pursue out in the wild but also feature a cast stone front face to enhance the aesthetics of a building.
Bat Box Maintenance
Our cast stone bat boxes require no maintenance at all. Cleaning the front face is optional but not required. However, if you chose to clean your cast stone bat box, we'd suggest following the method detailed in our caring for cast stone products blog.
Integrated Bat Box Placement
Integrated bat boxes are easy to install. We recommend placing them in areas that are sheltered from strong winds and have access to sunlight throughout part of the day (usually south, south-east or south-west). Where possible, locate cast stone bat boxes where bats are known to feed such as near hedges and tree lines. Consider artificial lighting to protect bats from predation and install them out of the reach of cats and other predators. As a good rule of thumb, we suggest at least 4 metres above ground level. Our integrated bat boxes are suitable for both new builds and retrofit applications.
Buy Cast Stone Products Online Today!
Help tackle nature loss with our cast stone integrated bat box, buy online, with delivery within 4 working days when our express delivery service is selected. All our products are sold in standard sizes online, however, bespoke products are available from Forticrete. If you're looking for an alternative finish, our parent company Ibstock offer clay bat boxes.
You can get in touch with us today by calling on 01909 775 000 or email us at [email protected]. One of our friendly cast stone experts would be happy to help.